WAC is Open!
WAC is back with a regular schedule.  New boiler has heated the water to a toasty 86 degrees.
During our mechanical  downtime new shower room floors were installed and the walls were painted.  Pool walls also received a new coat of paint. Everything looks great!
 WAC will be open Sunday April 2, from noon until 4 p.m. for open swim.
In addition WAC will be open for Open Swim from 4 to 7:30 p.m. each Wednesday and Friday evenings for the month of April.
WAC is currently planning summer group swim lessons.  Call 573-374-7370 to reserve a slot in a class.
6 group lessons for $25 and each child will receive a 3-month membership to the pool.
Closed Sunday but available for private parties.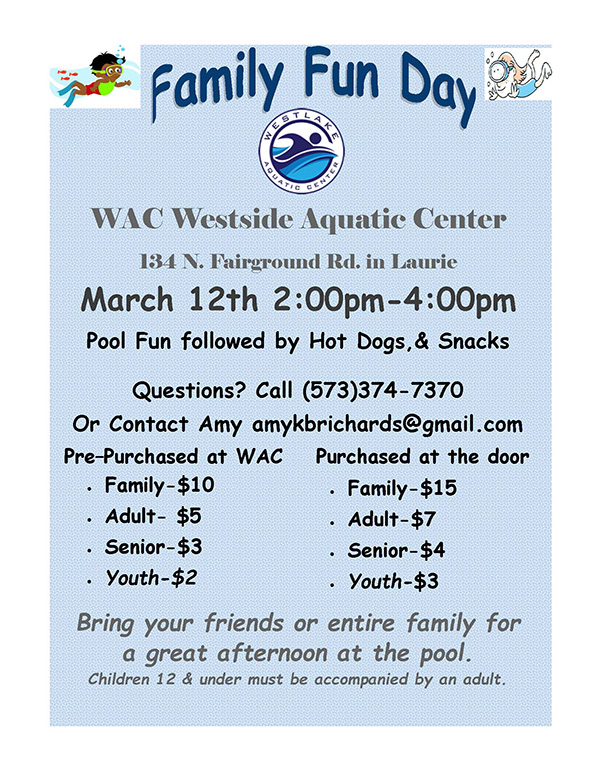 WESTLAKE AQUATIC CENTER CURRENT SCHEDULE

Westlake Aquatic Center classes and open swim are open to the public via paying at the door, punch cards, 3-month, 6-month or annual memberships.
Private parties for birthdays, family reunions or other special occasions may be scheduled by call the pool at 573-374-7370.
Group swim lessons are taught each summer, fall and spring sessions available on Saturdays.  Private lessons may be scheduled by calling the pool.
Locker rooms and lockers will be fully open for use.
---
 
Westlake Aquatic Center Video Produced by LakeTV

---
Westlake Aquatic Center is a fun place for grandparents to bring their grandkids!
---
Pool Hours
Monday – Friday:  6:00 AM to 3:00 PM
Saturday: 7:00 AM to 9:00 AM and 12 Noon to 3:00 PM
Sunday: CLOSED
Private and group swim lessons are still available for this summer.  Call pool for additional info.
Westlake Aquatic Center: Lake of the Ozarks West
The Westlake Aquatic Center is open 7 days a week for water aerobics, lap swimming, arthritis classes, open swim, swimming lessons, pool parties, lifeguard training and more.
The mission of the Westlake Aquatic Center is to improve the health and quality of life for residents and visitors of all ages by providing physical fitness, rehabilitation, education, and social opportunities in a safe and environmentally friendly facility accessible to all.
The Westlake Aquatic Center, built in 1999 by the Laurie-Sunrise Beach Chapter of Rotary International, is the ONLY Indoor mini-Olympic pool in the Lake of the Ozarks area.
The pool is located at the back of the Laurie Fairgrounds, 134 N Fairgrounds Rd, Laurie, Missouri.
Contact Us