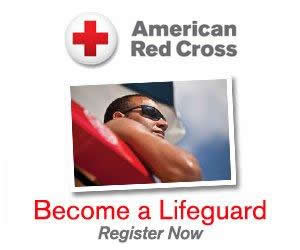 The Westlake Aquatic Center provides Lifeguard, First Aid, CPR, and AED Certification. Coursework includes a two-day class and in-water instruction. Call 573-374-7370 today to pre-register and inquire about next class. Cost $250. Includes books, CPR mask, classroom time, pool time and personal instruction. Must be at least 15 years old and be able to swim. The Westlake Aquatic Center is located at the back of the Laurie Fairgrounds in Laurie, Mo. Call 573-374-7370.
2019 Lifeguard Class
APRIL 4-7, 2019 – SAVE THE DATE!
More information coming soon!
Lifeguard Prerequisites
To be eligible for the Lifeguarding course, the participant must be 15 years of age on or before the final scheduled session of this course.The participant must successfully complete the following:
100 yds of front crawl using rhythmic breathing and a stabilizing, propellant kick. 2 laps
100 yds of breaststroke using a pull, breathe, kick and glide sequence. 2 laps
100 yds of either the front crawl or breaststroke. The 100 yds may be a combination of front crawl and breaststroke. 2 laps
This is not timed but must show only that he or she can swim 300 yds using the above strokes without stopping. The purpose of the swim is to demonstrate comfort in the water.
Starting in the water, swim 20 yds using front crawl or breaststroke, surface dive 7-10 feet, retrieve a 10-lb object,  return to the surface, swim 20 yds back to the starting point with the object by holding the brick with both hands, place the brick on chest, swim on back using an elementary backstroke kick, flutter kick ,or a rotary (eggbeater )kick. The participant must exit the water using his or her strength. The time is complete once the participant has exited the water and is standing up on the pool deck.  The purpose of the timed event is to ensure that the participant demonstrates comfort in the water, along with enough speed, strength and endurance to perform a combination of basic skills that are required and built upon throughout the course.
You are welcome to use our pool to practice swimming once you have paid for the course and picked up you Lifeguard Manuals.  Book MUST be read before the course begins.
Life Guard Classes: $250 for class (includes book/mask)
Participants must be 15 years old on/before the first day of class and able to swim 300 yards. Classes will begin Friday afternoon at 4 and continues from 8 to 4 both Saturday and Sunday. All participants are encouraged to come to WAC to practice swimming prior to the class. Class must be prepaid.
Life guard classes and CPR/AED classes are available in the spring and to contact the pool for dates and time.