The friendly staff at the Westlake Aquatic Center provide private swimming lessons all year at the Lake's only indoor mini-Olympic size swimming pool. Beginners and advanced level welcome. The Westlake Aquatic Center is located at the back of the Hillbilly Fairgrounds in Laurie, Mo. Call 573-374-7370 to schedule a lesson.
Private Swim Lessons:
Scheduled by appointment: 573-374-7370 or email wac1532@gmail.com
Child: $24 for 30 minutes
Adult: $30 for 45 minutes
6 private lessons for $124 (must be paid in full at first class)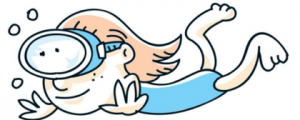 Group Swim Lessons
2021 SWIMMING LESSONS
$25 for Group Swimming Lessons – Child receives 3-month pool membership.
Session 1 – June 4, 7, 9, 11: 1 or 2 p.m.
Session 2 – June 14, 16, 18, 21: 1 or 2 p.m.
CHILD MUST BE 4 YEARS or OLDER for group lessons
$25 fee must be prepaid to secure a place in a session.
CALL OR COME BY THE CENTER TO SIGN UP FOR THE SWIM LESSONS
Swimming Lessons at the Westlake Aquatic Center follow the American Red Cross Model:
(Preschoolers Ages 4-5 must register for Preschool Lesson only. Swimmers ages 6 and older should register for one of the levels indicated.)
Level 1: Water Exploration (Shallow water lesson)
Fully submerge face in water
Front and back float with support
Kicking on front and back with support
Enter and exit the water independently
Level II: Primary Skills (Shallow water lesson)
Float on front and back unsupported for 5 seconds
Swim on front 5 yards without assistance
Swim on back 5 yards without assistance
Retrieve objects under water chest deep
Level III: Stroke Readiness (Mid-pool lesson: shallow and deep)
 Swim the front crawl for 10 yards
 Swim the back crawl for 10 yards
 Jump into deep water
 Bobs in water over the child's head
Level IV: Stroke Development (Deep water lesson)
Deep water bobs
Standing dive from side of pool
Elementary backstroke for 10 yards
Front & back crawl 25 yards (entire length of pool)
Breastroke & Sidestroke kick with kickboard
Level V: Stroke Refinement (Deep water lesson)
Front & back crawl for 50 yards
Breastroke & sidestroke for 10 yards
Elementary backstroke for 25 yards
Level VI: Skill Proficiency (Deep water lesson)
Front & back crawl 100 yards
Breastroke & sidestroke 25 yards
Swim the butterfly 10 yards
Flip turn
Level VI: Advanced Skills (Deep water lesson)
Swim continuously 500 yards using any strokes
Backstroke flip turn
Tread water for 5 minutes
Participants must demonstrate all skills before moving on to the next level.